FAITH FORMATION STARTS IN OCTOBER
• Sunday School for ages 5-12 begins October 3. Your child can attend in-person on Sundays at 10:15am, or virtually on Zoom on Sundays at 2pm.
• Students grades 8-12 will meet with teens from St. Paul, Holy Rosary and Cathedral. This hybrid program meets weekly online, with monthly in-person The program start on Sunday October 3 at 4:00 at Cathedral.
SATURDAY SCHOOL
St. Elizabeth will host Saturday School October 9 through November 13. You can volunteer as a: Class Assistant (9:30-11:30) help students complete the work given by the teacher • Hospitality (10:30-1:00) coordinate lunch • Mentor (12:00-2:30) with a student on a project
• • • • • • • • •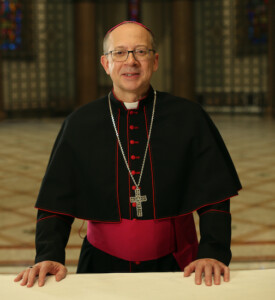 SAVE THE DATE – November 6
The Most Reverend Barry C. Knestout will celebrate Mass at St. Elizabeth's Church on
Saturday, November 6, 2021 at 5:30 pm
. The Mass is part of the retreat "Our Church, Our Story: Black Catholic Identity and Culture" on November 5 – 7, 2021. The retreat and conference will be held in-person and simulcast on Zoom. On Saturday, November 6, Dr. Tia Pratt of Villanova University will give the keynote address.
Sponsored by the diocesan
Office for Black Catholics
and the National Black Catholic Congress Daniel Rudd Fund. In partnership with All Saints Catholic School, St. Elizabeth Catholic Church, Holy Rosary Catholic Church and St. Paul's Catholic Church. Registration is open. Invite your friends and family.
Details are on our website: https://stelizcc.org/november-retreat-2021/
• • • • • • • • •
READY FOR RISC – Multiple Dates
St. Elizabeth's is an active member of Richmonders Involved to Strengthen our Communities (RISC). RISC is a community organizing group that works locally to further the prophetic call to Justice and build a city of God. Our strength is in the power of organized people coming together to demand Equity. If you'd like more information about RISC or would like to join our team, we ask you to attend a small-group meeting on one of the following dates (additional dates may be added if needed): Saturday, October 2, 11:00am • Friday, October 8, 6:30pm • Tuesday, October 12, 6:30pm.
For details, please contact Nancy Kunkel at norjkunkel@gmail.com or 804-364-4953.
• • • • • • • • •
NATIONAL FATIMA ROSARY – October 16

On Saturday , October 16, 2021 starting at Noon, St. Elizabeth will say the rosary in front of the church with thousands of churches across the country. October 16 is National Fatima Rosary.
You can learn more
by searching Our Lady Of Fatima at the website nationalshrine.org.
• • • • • • • • •
RETREAT ON BLACK CATHOLIC IDENTITY & CULTURE – November 6
Our Church, Our Story: Black Catholic Identity and Culture
is a retreat and conference held in-person and simulcast on Zoom. On Saturday, November 6, Dr. Tia Pratt of Villanova University will give the keynote address, followed by four breakout sessions: Racism in the Catholic Church, Black Vocations, Catholic Experience in Africa, and Youth Empowerment. Bishop Knestout will preside at the closing Mass on Saturday, November 6. The retreat begins Friday, November 5 at 5pm and ends on Sunday, November 7 at Noon. The Saturday program is from 9:30am to 2:30pm. The retreat is free for anyone who attends virtually on Zoom. If you want to stay at the Roslyn Retreat Center for two nights, the cost is $55 single and $100 double. You must register because space is limited. If you want to attend the Saturday session in-person, the cost is $20.
• • • • • • • • •
• • • • • • • • •
COVID UPDATE – EASY WAY TO SHOW VACCINE STATUS IN VIRGINIA
You can
go to the Virginia Department of Health website,
vaccinate.virginia.gov
, put in basic information, and it will pull up a QR code, specific to you. You can save the QR code on your smartphone. This QR code has all the information anyone could need to show you are vaccinated: vaccination status, type of vaccine, and dates of vaccinations. Your QR code will be much harder to duplicate illegally as some have tried to do with the vaccine cards.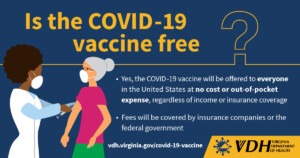 • • • • • • • • •
What's on my ballot:
Governor, Lieutenant Governor, Attorney General, House of Delegates and some local offices (varies by locality).
First day of Early Voting: Friday, September 17th
Deadline to Register to vote or update your existing registration: Tuesday, October 12th
Deadline to apply for an absentee ballot: Friday, October 22nd at 5:00 P.M.
Last day of Early Voting: Saturday, October 30th at 5:00 P.M.
Local offices will also be open for voting the previous Saturday, October 23rd