**SUNDAY MASS IN PARISH HALL** 
Starting Sunday, June 12, we will hold 8:30 am and 10:00 am Masses in the Parish Hall. 10:00 am Mass will be in-person and on ZOOM. You can reach the Parish Hall using the side door on Fourqurean Lane. Look for the ramp leading to the downstairs. After 17 years, the air conditioners in the Church failed. The Parish Council and Finance Council unanimously voted to replace the the AC unit. We have contracted Harris Mechanical who will be starting the work ASAP. You can receive updates in our e-parish bulletin. Subscribe online at bit.ly/STECC_Bulletin

FIRST COMMUNION
At Sunday's Pentecost Mass, we celebrated the First Communion of Uwase, Amari, Kingston, Zoe, Ellie, Ingacio, Jeanson, Grace, Anastasia and Kara. Please keep them in your prayers.
REMEMBER JUNETEENTH – Monday, June 19
Visit this website to find out about Juneteenth activities happening in Virginia: https://pressroom.virginia.org/2022/05/celebrate-juneteenth-in-virginia-2022/
MEETING ABOUT BLACK HISTORY MONTH – Wednesday, June 22
Our parish Justice Ministry Committee is having a special session on Zoom to which all parishioners are invited.  This will deal exclusively with the subject of Black History Month observances for our Centennial Jubilee Year of 2023.  We welcome everyone's input.  To get the link to join the session on Wednesday, June 22, at 7 p.m., please contact Connie Hom at [email protected] or Chris Barrett at [email protected].
CELEBRATE SISTER TIBERH  – Thursday, June 23
Join us for a Thanksgiving Mass and the 27th Religious Anniversary of Sister Tiberh Hagos, Thursday, June 23, 2022, at 5 pm. The celebration will be held at Our Lady of Lourdes Catholic Church, located at 8200 Woodman Rd, Henrico, VA 23228.
SOCIAL JUSTICE MEETINGS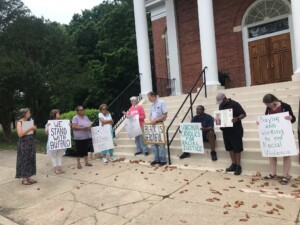 St. Elizabeth, in collaboration with Virginia Catholics for Racial Justice, will be one of a number of Catholic parishes throughout the diocese, hosting a brief prayer vigil and call to action in response to the recent mass shootings across the United States. It will take place here at the church on Friday, June 17th, at 6:30 p.m. This is an opportunity to take a stand against the spiralling gun violence. For more information, contact Chris Barrett at 804-266-3596 or at [email protected]. (For the pulpit announcement: For more information, please see the bulletin or see Chris Barrett.)
Please join Richmonders Involved to Strengthen our Communities (RISC) for its annual Celebration of our wins for justice, Monday, June 13, 6:30-8pm. Second Baptist Church, 3300 Broad Rock Blvd. Everyone is welcome. Here is a flyer with the details: RISC_Celebration_(Facebook_Post)_copy
CALLING ALL GRADUATES
If you graduated or will graduate this academic year, share your good news. We would like to put your name in the bulletin to congratulate on your success. Complete the
Graduate Information Form
online.
SUMMER MASS SCHEDULE
The Summer Mass schedule will begin on Sunday, May 29, with Masses at 8:30 am (in-person only) and 10:00 am (in-person and Zoom). For a complete Mass schedule, visit, https://stelizcc.org/mass-schedule/ On Wednesday, June 1 at Noon, Deacon Chris will conduct a Communion Service. There will be NO Mass on Friday, June 3.
PHOTOS OF YOUR FAMILY AT ST. ELIZABETH
DONATE ITEMS FOR OUR SILENT AUCTION
The St. Elizabeth's Centennial Anniversary is planning an silent auction to raise much-needed funds for the parish. You can support this fundraiser by donating an item for the auction. We need gift certificates to restaurants, local businesses, jewelry, breweries, retail shops, grocery stores, museums, etc. Do you offer a service such as hairstylist, makeup, accounting, decorating, etc. The silent auction is a great way to promote your business and a great way to raise money for St. Elizabeth. 
Email Monique Moody at [email protected]
.
ARE YOU RECEIVING EMAILS FROM ST. ELIZABETH?
St. Elizabeth is a busy parish. Don't miss out. Every week, you can receive an email with the announcements you hear at church and read in the bulletin. Get the latest news delivered to your inbox. To sign up, go online to bit.ly/STECC_Bulletin