Brian T. Olszewski, The Catholic Virginian
In Lk 13:22-30, the Gospel for Sunday, Aug. 25, Jesus spoke about the need to enter through the narrow gate.
During his homily at the Mass he celebrated in a packed St. Elizabeth Church, Richmond, Auxiliary Bishop Joseph N. Perry of the Archdiocese of Chicago told the congregation about Father Augustus Tolton who was strong enough to enter through that gate, who was among the least but who is being considered for sainthood.
Father Tolton is the first recognized U.S. diocesan priest of African descent, and Bishop Perry is the postulator for his sainthood cause, which opened in 2010.
"Pope Francis advanced Father Tolton to the next stage in the process of naming him venerable (on June 11), having declared that Father Tolton lived a life of heroic virtue for the circumstances within which he lived," Bishop Perry said, noting the "historical circumstances" were the Civil War and Reconstruction, post-Reconstruction and segregation and discrimination that followed.
Navigating 'choppy waters of racism'
When the Civil War began, Peter Tolton told his wife Martha he wanted to run away and enlist in the Union Army "to join the forces of freedom." She had hoped that one day they would meet up in a free state, but they never did.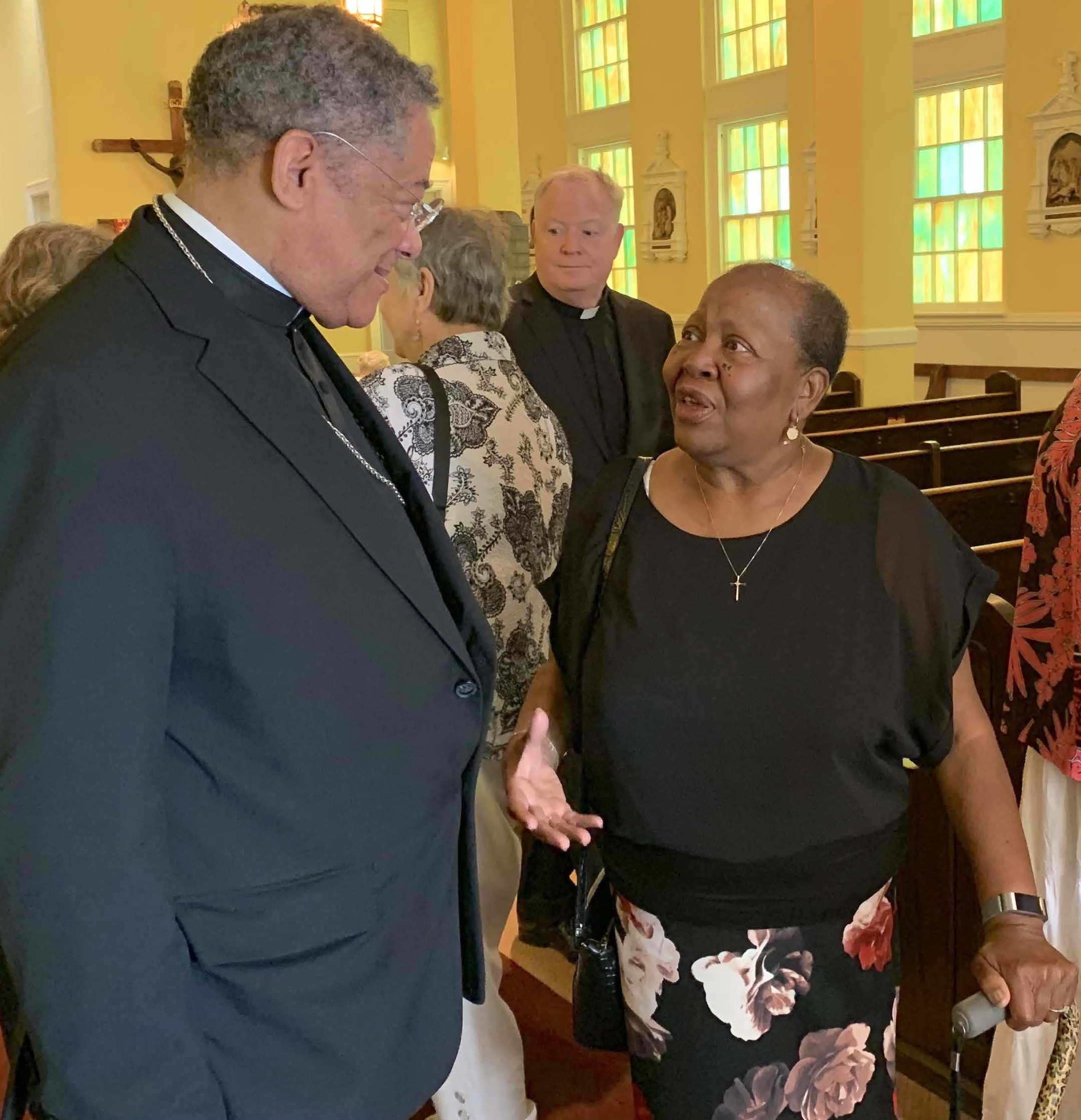 With Peter gone, Martha was accosted by slave catchers. She rowed her three children across the Mississippi River from Missouri to Illinois, a free state.
"And that night, the woman evaded her pursuers when she landed on the northern bank of the river, and she pulled her children to their knees and prayed, 'Now you children are free. Never forget the goodness of the Lord,'" the bishop said.
In the town of Quincy, the Toltons had to navigate what the bishop termed "the choppy waters of racism" in St. Boniface Parish and School. However, a parish priest, Father Peter McGirr, addressed the matter from the pulpit.
"He knew that there was a simmering resentment even in his own congregation," Bishop Perry said. "He tackled it head-on with sermons reminding all listening that as children of God there was one father and whatever you do to the least of his children you do to him."
A hard working, bright and intelligent boy, according to Bishop Perry, Father Tolton "was an idealist, like his father."
"His idealism was not political though; it was religious. He loved his Catholic faith," the bishop said.
Call to priesthood
Father McGirr would regularly see the young man at prayer in church, but one day, according to Bishop, Perry, he noticed something different about him.
"Later he asked Gus what he had been praying about. The young man looked embarrassed. Sometime previously, Father McGirr had wanted to ask him 'the' question, and that day he did," Bishop Perry said. "It shocked Gus because it was on that very subject that he had been contemplating — a possible vocation to the priesthood."
While Father Tolton was experiencing the call to priesthood, manmade barriers stalled it from being realized.
"The formality of applying to a seminary proved, however, more complicated for the young, recently freed, black slave," the bishop said. "Especially as there had never been a man of his race at any seminary in America, let alone a black man seen with a Roman collar around his neck."
He noted that some seminaries — diocesan and religious — made excuses, other did not reply at all.
Despite the rejections, Father Tolton's faith remained strong. While he continued to work in various factories around town, he also continued to go to Mass and to pray.
"He refused to be discouraged or to blame anyone. He knew the human heart was weak," Bishop Perry said. "He knew, too, that the Church was unimpeachable in its doctrine and treatment of all his brothers and sisters in Christ, but that she also was made up of sinners, and so human frailty was never far away."
Eventually, he was accepted into a seminary — in Rome.
"For the first time in his life, he lived in an environment free of racial tension," the bishop said. "His classmates were from diverse places around the world: from the Pacific Islands to South America, to Asia Minor, Europe, one other student from the United States – from the state of New Jersey."
'We're sending you home'
An apt student who thrived in Rome, Father Tolton anticipated being sent to Africa as a missionary following ordination. However, the night before he was ordained in 1886, Cardinal Giovanni Simeoni, prefect of the Congregation for the Propagation of the Faith, told him, "You know, Gus, the United States considers itself to be the most enlightened nation on the face of the earth. Let's see if it deserves that honor. If the United States has never seen a black priest, then they have to see one now. We're sending you back home."
Bishop Perry noted that "unbeknownst to the cardinal, he was fashioning the cross upon which Tolton would be nailed once he came back here."
"Despite his open and generous manner, his learning, his piety, his hard work, his dedication, his innocence, and above all his priestly heart and its desire for souls, Augustus was soon to be defamed and insulted and ultimately rejected, not least by fellow priests," the bishop explained. "Partly inspired by jealousy, partly by racial prejudice that in the end provoked the youngest priest's removal."
Welcome to Chicago
About that time Bishop Patrick Feehan of Nashville was named archbishop of Chicago. In 1889, he invited Father Tolton to come and work in the city.
"Trusting all to divine providence, the same fervor and energy that Father Tolton had brought to Quincy he now directed to a poor district in Chicago's southside — riveted by tenement houses of poor Irish and poor blacks, free slaves, escaped slaves and those in between," Bishop Perry said.
With the archbishop's approval, Father Tolton raised funds to build a church "dedicated to the service of the city's black population," the bishop said.
While St. Monica Church was dedicated in 1894, Bishop Perry emphasized the priest "was more than a fundraiser."
"He was first and foremost a priest. His congregation was largely poor, ill and composed of former slaves with all the resulting ills of poverty and depression, violence and illness, attending to those who for varying reasons had given up on life," the bishop said. "The young priest worked tirelessly to minister to them, reminding them of the one thing no human power could remove or tarnish, namely their Catholic faith."
A little more than three years later, Father Tolton began showing signs of "physical and emotional deconstruction," according to Bishop Perry.
"It was not uncommon for priests to absorb the illnesses of the people that they served, the illnesses that were rather rampant in those days, especially seeing that blacks did not have healthcare in those days – tuberculosis and hypertension and various heart ailments, depression, those kinds of things," he said.
During a heatwave that saw a week of 100-degree temperatures in Chicago, Father Tolton died. He was 43.
"We're impressed by people who somehow found God through the narrow door that Jesus speaks of in the Gospel today — the narrow door that's very unattractive but is filled with a lot of pathos and suffering, Calvary and the cross," Bishop Perry said.
Noting that a gathering of blacks and whites in the church during Father Tolton's time got him into trouble, the bishop said, "Look where we have come — 2019 A.D. opposed to 1890 A.D. or 1619."
As part of the Prayer of the Faithful, Bishop Perry invited the congregation to pray the Father Tolton Prayer.
Editor's note: For more information about and resources regarding the life of Venerable Father Augustus Tolton and his cause for canonization visit https://tolton.archchicago.org.