BUILDING BRIDGES: REACHING OUT TO LGBT CATHOLICS Wednesday, February 23
The Office of Social Ministries and Respect Life is excited to host Fr. James Martin as he discusses the importance of reaching out to LGBT Catholics. Fr. Martin is a Jesuit priest, author, and editor at large at America. Registration is required prior to this event. You can register online by CLICKING HERE: https://bit.ly/BuildingBridgesRichmond
FEBRUARY BLACK HISTORY MONTH SPEAKER SERIES
For 2022 Black History Month, we will feature the Black Catholics who are making history in our parish. Four of our parishioners will speak at the 9 am Mass. You can attend in-person or watch on Zoom. The schedule is: February 6 Sister Cora Marie Billings, RSM • February 13 Cathy Woodson • February 20 St. Tiberh • February 27 Vivian Sullivan
Sunday February 6 Sister Cora Marie Billings, RSM: Sister Cora Marie Billings has been a member of the Institute of the Sisters of Mercy of the Americas for 65 years. During that time she has been a Teacher, a Campus Minister and an Administrator. She is one of the Founding Members of the National Black Sisters' Conference. Since 1968 she has been an advocate for human rights and anti-racism. She has done presentations around the nation. At present she considers herself a Community Volunteer.
Sunday February 13 Cathy Woodson: Cathy Woodson served in several ministries here at St. Elizabeth parish over the past 45 years. She served on several commissions and committees with the Catholic Diocese of Richmond, the National Black Catholic Congress Leadership team, the Pax Christi USA Anti-Racism team and the Pax Christi National Council. In 1994, she received Bishop Sullivan's Ministry Award. Currently, she is serving on the Wisdom Circle with the Virginia Catholics for Racial Justice. She works with several community organizations around the region.
Sunday February 20 Sr. Tiberh
Sunday February 27 Vivian Sullivan
WEBINAR BLACK SPIRITUALITY OF RESISTANCE AND RESILIENCE Monday, February 7
Sister Cora shared this webinar happening during Black History Month. Sponsored by the Archdiocese of Santa Fe, this webinar shares themes from the U.S. Bishops Pastoral Letter Open Wide Our Hearts, including exploring how healing racism in our Church and Community can take place. The webinar is on Monday, February 7, 2022, 8 – 10pm EST). The presenter is Dr. C. Vanessa White, D. Min., Associate Professor of Spirituality and Ministry and the Director of the Certificate in Black Theology and Ministry Catholic Theological Union at Chicago. The event is free. Pre-registration is required.
You can register online by CLICKING HERE.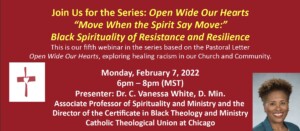 OVERBY SHEPPARD ELEMENTARY SCHOOL SUPPLY DRIVE
You can help our neighbors at Overby Sheppard Elementary School. Donate any of the following items. You can drop them off after Sunday Mass or at the parish office. If you shop online (i.e. Amazon, Target), place an order and ship it directly to the school. The address is Overby Sheppard Elementary School, 2300 1st Ave, Richmond, VA 23222. You can mail gift cards, too.
1.  "Oops" kits ( for kid's accidents): Underwear, shirts, and pants (all sizes)
2. Winter clothes: shirts and pants (all sizes)
3. Kids' masks
4. Reusable water bottles
5. Belts (all sizes)
6. Rewards for attendance: McDonald's gift cards, etc.
Please drop off supplies in the donation box in the Church.
MEETINGS COMING UP
Parish Conversation On Racism: Sunday, February 27, from 2 – 4pm via Zoom
RISC Network Meeting: Tuesday, February 8, from 7-8:30 pm via Zoom.
RCIA FOR ADULTS
St. Elizabeth will be starting its Rite of Christian Initiation for Adults program next Sunday for all those who are interested in learning about the Christian faith, coming into full Communion with the Roman Catholic Church if you are coming from another Christian tradition, or wishing to receive the sacraments of first communion or confirmation. Contact Christopher Metzger at [email protected].
FOLLOW RISC ON SOCIAL MEDIA
In the coming weeks, the RISC Social Media Committee will be working to put out content around our RISC activities and campaigns, with special attention to our Gun Violence Campaign. To be as effective as possible, we need to grow our social media community! If you are active on any of the below platforms, like, follow and share RISC's posts.
Like RISC on Facebook • Follow RISC on Instagram • Follow RISC on Twitter • Subscribe to RISC on YouTube
UPDATE ON COVID
Order A Free COVID Test
Every home in the U.S. is eligible to order at-⁠home COVID-⁠19 tests. The tests are completely free. Orders will usually ship in 7-12 days. Order online via the United States Post Office: special.usps.com/testkits. If you have difficulty accessing the internet or need additional support placing an order, you can call 1-800-232-0233 (TTY 1-888-720-7489) to get help in English, Spanish, and more than 150 other languages – 8am to midnight ET, 7 days a week.
Vaccine Clinics
City of Richmond: Weekly vaccine clinic schedules can be accessed here. Appointments are not required, but they are encouraged. You can make an appointment online or call (804) 205-3501.
Chesterfield and Powhatan: Vaccines are available at the Community Vaccination Center (CVC) located at the Rockwood Vaccination Clinic at 10161 Hull Street Road in Midlothian. The CVC is open Monday through Saturday from 10:00am to 5:30pm. Pfizer vaccinations for 5 to 11 year olds are available by appointment only.