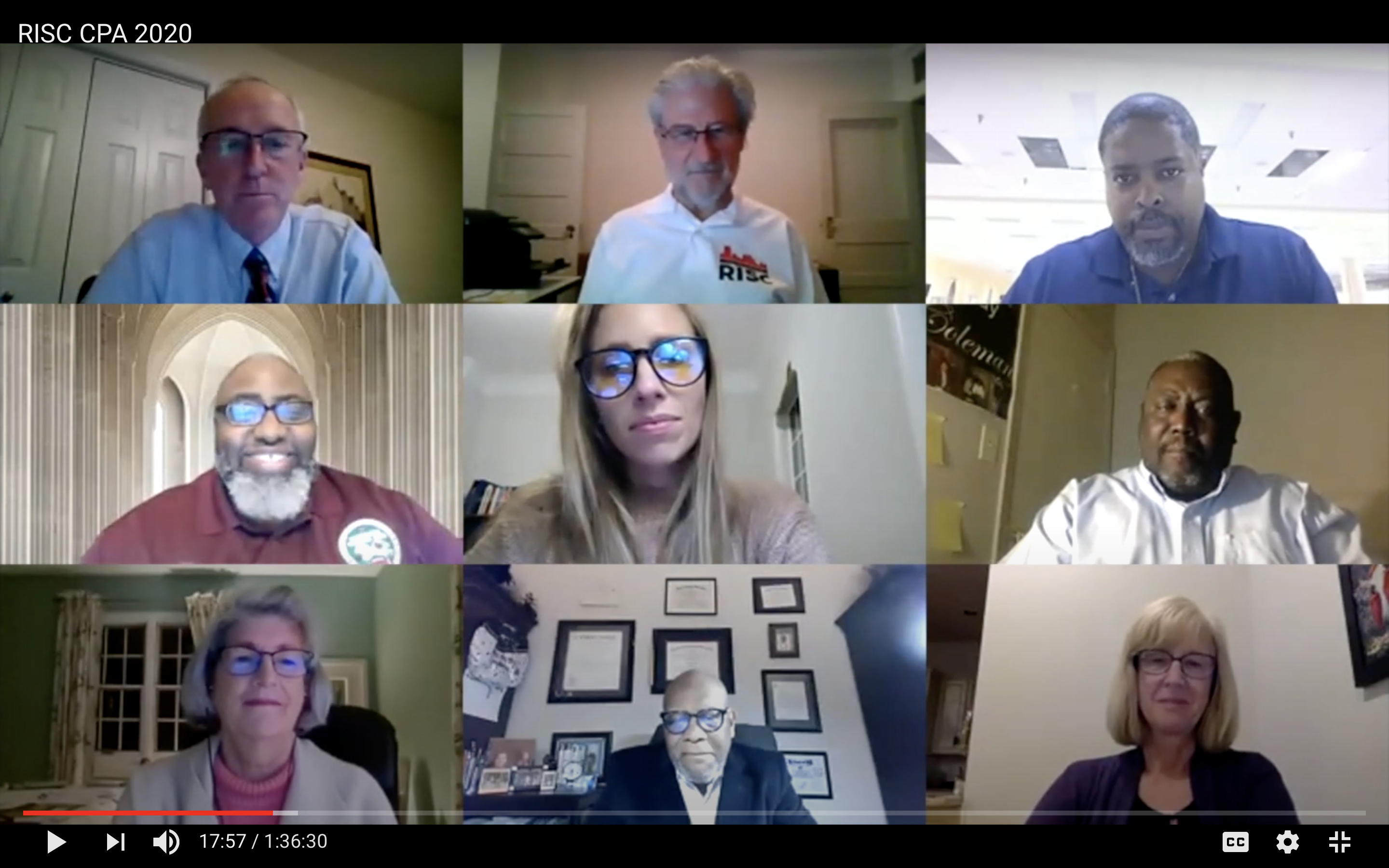 December 2020 Meetings
**UPDATE** on the Ordinance
RISC organized, and turned out 200 people on December 17th for the City's Finance and Economic Development Committee meeting. Councilperson Jones changed his position. The motion to pass the Ordinance forward to City Council for a vote PASSED (2-1; Robertson and Jones in favor, Larson against). ON January 11th at 5:30 pm, We expect the Ordinance to come before City Council. We will need you to attend the virtual meeting. We can win a dedicated stream of funds to secure affordable housing!
HOUSING "MINI-ACTION" AT THE CITY'S FINANCE & ECONOMIC DEVELOPMENT COMMITTEE MEETING – Thursday, December 17th 12:30 pm on Zoom
On September 28th, Mayor Stoney introduced an Ordinance which, if passed, will create a dedicated stream of revenue for the Affordable Housing Trust Fund. The source is the property taxes from properties coming off of the city's Tax Abatement Program. This is something for which RISC has been asking for many years. However, the Ordnance is "stuck" in the city's Finance & Economic Development Committee.
Emily Small, RISC Lead Organizer, shared some background on why this meeting is important to future of affordable housing:
On September 28th, the Mayor introduced an Ordinance (read it here) to Council which, if passed, will create the dedicated stream of funding for the Affordable Housing Trust Fund. A dedicated stream will go a long way toward ensuring that the $10 million we want allocated, actually gets allocated. We  pa(RISC) have been advocating for a dedicated stream since we first started working on this problem nearly a decade ago. In short – we've been after what is "in play" with this Ordinance for a long time, AND winning it will mean changes in the lives of thousands of Richmonders.

The Ordinance has been referred to the city's Finance & Economic Development Committee, and it is being heard next Thursday. Councilpersons Jones, Robertson, and Larson sit on this Committee. The Ordinance actually had an initial hearing back in October, and at that time it did not pass because neither Councilperson Jones nor Larson would second Robertson's motion to pass it forward to the full Council. That has to happen next Thursday, and we believe it can with the power of organized people.
---
December 2020 Meetings
"RESEARCH TO ACTION" KICKOFF – Monday, December 7th 6:30 – 8:30 pm on Zoom
The Research Kickoff is open to any and all members who want to engage more deeply with our issue campaigns around Gun Violence, or Affordable Housing. The first part of the evening will be a training around fundamental concepts RISC uses to conduct direct action campaigns. The second part of the evening will be spent in breakout groups for each of our active issue campaigns, during which we will re-form these Committees and approve a plan of action forward.
Zoom Link for Research to Action Kickoff: https://zoom.us/j/98285401174
Dial-in #: 301-715-8592 • Meeting ID: 982 8540 1174
---
To see the entire calendar of meetings scheduled through our Nehemiah Action on March 22nd, click here to go to the Calendar page of RISC's website!
Congratulations to our newly installed 

RISC

 Officers!
Co-Presidents: Pastor Ralph Hodge (Second Baptist) & Steve Saltzberg (First Unitarian Universalist)
Vice President: Pastor William Eric Jackson, Sr. (Fourth Baptist Church)
Secretary: Kristin Gorin (Temple Beth-El)
At-Large Officers: Pastor Don Coleman (East End Fellowship); Barbara Jacocks (Bon Air Presbyterian); Aubrey Jones (Fourth Baptist); Nancy Kunkel (St. Elizabeth Catholic); Deacon Janice Lacy (Ebenezer Baptist); Deacon Renee Mills (Ebenezer Baptist)