May 17, 2020 marks the fifth anniversary of an important encyclical from Pope Francis – Laudato Si. Laudato Si starts off with the words of St. Francis of Assisi, patron saint of those who promote ecology. When he released the letter on May 24, 2015, Pope Francis opened up the conversation about caring for Creation as a moral issue. We're still talking about it!
Below are videos, images, and information from the Pope's letter. Hopefully, they will inspire you to pray and take steps to care for God's Creation. #LaudatoSi5 🕊
1) This video features excerpts from the letter with stunning images. Watch until the end for a message of hope that speaks loud and clear even today.
https://www.youtube.com/watch?v=1tYdOIqvpqg
2) In his homily on Sunday, Deacon Chris said he is trying to reduce the amount of meat he eats. Changes like going Meatless Mondays are a small step towards a bigger action to protect God's creation. Don't just take Deacon Chris's word. How about Pope Benedict's and the EWG (Environmental Working Group)?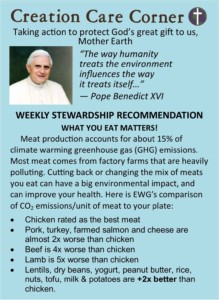 3) The Pope's encyclical opened with the words of St. Francis in his beautiful prayer titled: "The Canticle of Creatures." Hear the complete prayer in this video. Who better to say the prayer than Franciscan Friars from around the world? #LaudatoSi5
⏯ https://sbfranciscans.org/sp…/the-canticle-of-the-creatures/
4) This website breaks down how you can "see, judge, and act" to heal creation during the coronavirus. ➡️ https://laudatosiweek.org/coronavirus/
"In these times of the pandemic, in which are more aware of the importance of care for our common home, I hope that all the common reflection and commitment may help to create and strengthen constructive attitudes for the care of creation." — Pope Francis
5) You can calculate your carbon footprint. Use this tool. Type in estimates on how much you spend on heating, the mileage of your cars, what you recycle, etc. Your carbon footprint is the amount of greenhouse gases produced by particular human activity. https://www3.epa.gov/carbon-footprint-calculator
6) In Laudato Si, Pope Francis taught us that "everything is connected." Our faith calls us to do more together and collaborate to protect our common home. Take a moment to examine your relationship with creation. Read The St. Francis Pledge. Can you honor St. Francis's five simple requests?
– Pray and reflect on the duty to care for God's creation and protect the poor and vulnerable.
– Learn about and educate others on the causes and moral dimensions of climate change.
– Assess "how each of us – as individuals and as organizations – is contributing to climate change," both in terms of consumption and conservation.
– Act "to change our choices and behaviors contributing to climate change."
– Advocate for Catholic principles and priorities in discussions and decisions about climate change, especially their impact on the poor and vulnerable.
7) Join The Global Day of Prayer for the 5th anniversary of Laudato Si! Unite with Catholics all around the world in a massive wave of prayers for our common home. We're uniting in spirit because our faith is a powerful force for good. ➡️ Learn more and download the prayer card [LINK]